Culture and sport Amsterdam gay pride 2013
Gay sport and culture
The Amsterdam Gay Pride / We Are Proud festival is not only a week about dancing, drinking and partying. Amsterdam Gay Pride offers also a wide range of cultural and sportive events.
Cultural activities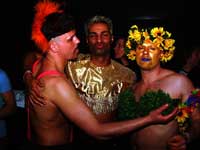 This website shows you only a few hightlighs from the cultural program. Most museums and art galleries will organize special exhibitions with a gay and lesbian theme.
At Artis Zoo you can make daily tours where specialists will show you gay animals at the zoo. Also you can visit many debate and reading sessions and special concerts.
To check the full program of gay cultural events during Amsterdam Gay Pride, you can check with ProGay
Gay sport events
Yes, us gays and lesbians can ge sportive too! Amsterdam Gay Pride is also a time to show that.
Several sportive gay events are organized during the Pride weekend, from tennis to volleyball, from running to soccer.
Check out all sport events at We Are Proud.