Gay Pride Amsterdam 2018
The Amsterdam gay pride lasts for 2 weeks, with the main parties and events in the second weekend.
Saturday + Sunday 28+29 July 2018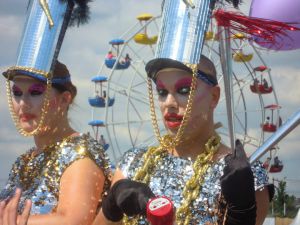 The weekend before the main gay pride weekend there is the open air gay minded Milkshake Festival.
Milkshake will be held for 2 days in a row. It consists of 6 stages with (sort of) different music styles.
Week before Pride
The week before the Amsterdam Gay Pride main weekend already many small events will happen all over town. Open air cinema, a senior pride concert and Pride at the Beach, at Zandvoort (about 30 minutes by train from Amsterdam). The real festivities kick off during the last weekend, with the Canal Parade on Saturday.
Friday 3 August 2018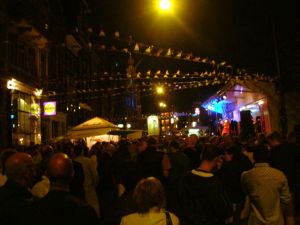 Friday is the start of the main pride weekend. First real party night of the Pride weekend. This is the first night with outside street parties taking place.
Street parties include Zeedijk, Spuistraat Prik party, and Amstelveld (more str8). The famous Reguliersdwarsstraat won't have an outside stage but an intimate street party.
Make sure you do not miss the hliareous Drag Queen Olympics at the Westermarkt.
Big parties for the night will be announced later on. The weekly Friday underwear party at Club Church will be packed as will open minded Club NYX .
Friday parties and events
Saturday 4 August 2018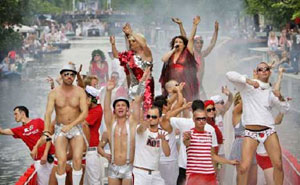 The highlight of the Amsterdam Gay Pride weekend is the famous Canal Parade on Saturday afternoon. Where most parades use trucks, Amsterdam has boats!
75 boats with beautiful boys and girls (and quite some corporate pride boats) will sail from 13:30 till 18:00.
Saturday parties and events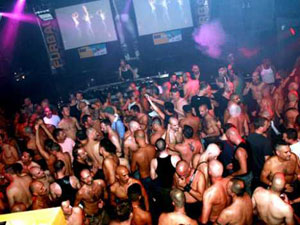 Next to the same gay streetparties as Friday, which start already early afternoon, Saturday night is party night. This year there is a lot of choice in parties. See our agenda for a list of all of them, here are some of the highlights.
Club Panama host popular bear party Bear Necessity. At the enormous Gashouder at Westergasfabriek there is the extra large edition of Funhouse.
Younger guys all go to F*ng Pop Queers, a big young and trendy party at Paradiso. The regular clubs Club NYX and Club Church will have parties as well and will get busy!
Sunday 5 August 2018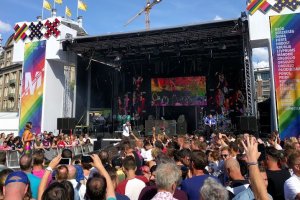 Today is closing day. The traditional Pride Closing Party will be at Dam Square in front of the Royal Palace. It takes place in the afternoon and early in the evening with many Dutch and international artists and DJ's. It's a mixed gay crowd, trying to survive the hangover and celebrating the last day of the Amsterdam gay pride.
As an alternative to the main closing party Rosario will have it's own pride closing party at the Blauwe Theehuis in Vondelpark.
Sunday parties and events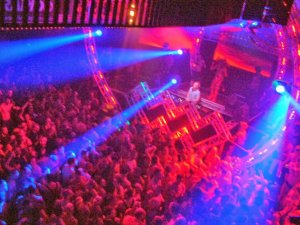 Party boys party on at circuit party Rapido at Paradiso which starts in the afternoon.