Sat 3 August 2024
The boats will start at the Scheepvaart museum at the eastern part of the city center moving towards the Amstel river. The floats will continue from there taking the Prinsengracht towards the Westerdok.
The Canal Parade starts around 12.00 pm and will take all afternoon. Enjoy the parade from one of the (busy) bridges or rom the canal quays. After the parade, visit one of the street parties to party on.
Route map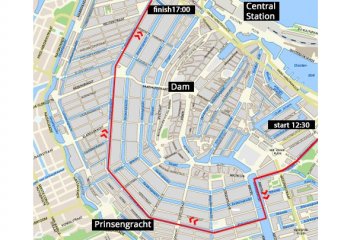 See route in Google Maps
Best viewing point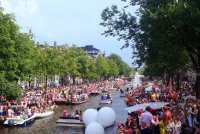 It will be extremely busy during the parade, both on and off the water. However, the route along the canals is several kilometers long, so there are plenty of excellent viewing spots. The best photo opportunities are on sides of the bridges, but those spots are taken usually hours before the parade starts.
The most popular spots are:
- on the Prinsengracht
- at the Magere Brug on Amstel river
- at the Eenhoornsluis at the end of the route
Keep in mind that the first boats will arrive on the beginning of the Prinsengracht about an hour after the official start.
After Parties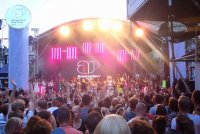 The street parties after the Canal Parade on start at around 16:00. Spectators of the parade often go to Amstelveld (which is direct next to the route), the large main stage on Dam square (en route towards to Central Station) and Rembrandtplein. These are large locations so you can easily bring a family or a group of friends. See our agenda for all other events and parties.
Travelling to the city centre
The best way is to arrive by public transport. Travel by train to Amsterdam Central Station and walk from there, or even better take a train to Amsterdam Zuid and from there the new metro line to Vijzelgracht. You will arrive in the middle of the parade!
Participate with a boat
You can apply to participate on the Canal Parade from February via the website of the organization. In March there will be a draw to select 80 boats that can participate.Only those 80 selected boats can sail in the parade.
Other boats (less than 10 meter) which are not in the parade can lie ashore of the canal. For this you need to buy a permit.
No music is allowed on boats lying ashore.
Joining in on a boat
We get many questions about joining a boat on the Canal Parade float. Most boats are organised by organisations and LGBT organisations of large companies. They usually invite only their empoyees, friends and relations.