Amsterdam Gay Pride 2014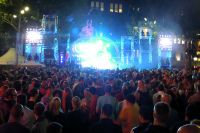 Gay Pride Amsterdam is one of the best and most fun prides in the world. This year it's from 26 July till 3 August 2014, with all major events taking place 1 - 3 August. Make sure you book your hotel via this website early!
Amsterdam will have street parties all weekend long, the best club circuit parties and of course the famous Canal Parade on Saturday. Gay pride is one of the most busy weekends of the year in Amsterdam.

Pride parties and events
Visiting Amsterdam gay pride
The main gay events and parties all take place in the center of Amsterdam. If you want to stay real close to the gay street parties check one of the hotels below. These are most popular with guys and girls visiting for pride.
You can also use our interactive hotel map to find the hotel of your needs.
Hotel recommendations for Amsterdam Gay Pride 2014
Hotel search
City: Amsterdam
Photos Canal Parade and Parties

Rapido XL Experience
Photos of the Rapido XL Experience party during Amsterdam Gay Pride at the Convention Center

Pride Canal Parade
Gallery 4 of the Canal Parade

Pride Canal Parade
Photos taken from the VIP area
More photos of gay pride
Gay Pride Organization
This website is powered by Nighttours.com and amsterdam4gays.com is the independent website about the Amsterdam Gay Pride with a focus on the parade and parties.
Amsterdam Gay Pride is organized by Stichting Amsterdam Gay Pride. See there website for the full cultural program and how to participate in the Canal Parade and other pride activities.

Buy online tickets
Many parties sell out during the Amsterdam gay pride weekend weeks before the event. Make sure to buy tickets online before.
Other prides and gay events coming up